---
Welcome to 

Only 1 Egg

, my small contribution to our vast online information universe. Now that you've arrived, please feel free to meander your way among these pages, and discover an ever expanding conglomeration of unconventional ideas.
---
Only 1 Egg
Divided into three content portals, this first domain is concerned with everyday existence, such as my business interests, various family adventures, home and garden projects, with a few humorous diversions thrown in along the way. Intended for those needing my particular brand of services, providing updates for friends and extended family, with links of possible interest to folks in similar circumstances. Perhaps such glimpses into my personal life will help those scratching their heads, still wondering… What is it exactly that makes me tick anyway?
World Clock Synthesis
The next domain is for the World Clock Synthesis, an interdisciplinary approach to integrating the current rational way of understanding things, with the esoteric beliefs of our distant collective memories. Here ancient symbols and archetypes have been combined with contemporary scientific knowledge, with key concepts unified around a color coded, multilevel matrix. Easily cross referenced, this unique arrangement of diverse ideas exposes many new interrelationships shared by our most fundamental scientific, psychological, and metaphysical systems.
Coincidentally, this colorful assemblage of ideas is currently available as the World Clock Synthesis poster! Please consider purchasing a copy of this hand drawn metaphysical musing, an attempt to encapsulate the underlying forces vitalizing our existence, making multi-dimensional reality both perceptible, and comprehensible.
Alt-Think
Then there's Alt-Think, a domain reserved exclusively for my unique style of peculiarly free thought. Expect encounters with unusual perspectives on modern society, new or obscure technologies, views on geology, biology, or anthropology, on physics, energy, even gravity too, or maybe some utterly skewed view on world history. Basically consider any field of human endeavor as 'fair game' for an alternative explanation. Whenever such opportunities present themselves, I'll also document experiments done on my own, accompanied by references and background information, and most likely with questions for further research.
---
So if something experienced here propels you to still further flung corners of this interlinked multiverse, events might unfold yet in a rather curious way. Maybe this alignment of images and ideas will reignite a once hidden spiritual flame, illuminating your awareness to limitless possibilities. Then again, perhaps you'll just be inflicted with incredulous bouts of outrageous laughter. It's really a matter of which paradigms each of us still clings to. But then hey… What you see is what you get, don't you know?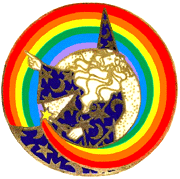 "Ideas rise from messy desks and messy minds where objects and concepts and memories that would not meet in an ordered universe bump into each other and start new and different disordered universes and boy is that self righteous coming from me."The Last Whole Earth Catalog